Who is online?
In total there is
1
user online :: 0 Registered, 0 Hidden and 1 Guest
None
Most users ever online was
38
on Fri Dec 27, 2013 1:41 pm
Page 2 of 2 •
1, 2
Name:
Elizabeth "Liz" Scales
Age:
19
Appearance: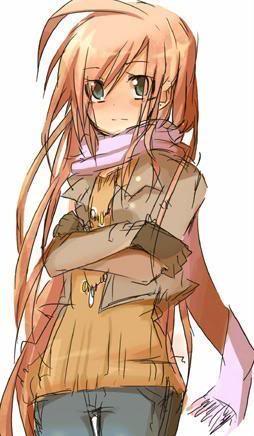 Power:
Pyromancy
Weapon(s):
Switchblade
Distinguishing Features:
Faint cigarette smell.  Always wearing layers.
Personality:
A quiet person who's used to taking care of herself, Liz will spring into action before most people can decide what they want to say on the matter at hand.  Pacifistic in nature, the knife she carries is for self defense only (though her knowledge of its use would say otherwise).  She's rarely frazzled and even more seldom emotional.  A cool head gets her far, but when she has to learn to work with others, how far will it take her?
Rank:
E
Bio:
Liz comes from an urban town a six hour train ride from Terminal City.  While she has a good grasp over her powers, she uses them sparingly if at all due to a promise she made with her mother.  She applied to Terminal University for its academics, unaware that she was already being scouted for her talents.  After being approached one night by an odd man with an odd letter, she set out for what would be her new home.
Moderator




Posts

: 87


Reputation

: 3


Join date

: 2014-02-03
Warning Level (Forum) :
Warning Level (Chat) :

Character Sheet
Name: Seraph
Passive/Aggressive: Passive
Health Points:


(100/100)



Name: Toshiro misawa
Age: 16
Appearance:
Power: weapon infusion the abilty to infuse elements with any weapon of his choice making it stronger. he has not master it so right now he can only fues his wepons with darkness.  
Weapon(s): he uses dual swords with blades as black as the shadows
Personality: is a loner does not have many friends. but he will try to make them if necessary if he needs help.
Bio: no one really noes about him all the know is he grew up on the streets because his parents were murdered when he was 10
Retired Staff




Posts

: 1


Reputation

: 0


Join date

: 2013-10-22
Warning Level (Forum) :
Warning Level (Chat) :

Character Sheet
Name:
Passive/Aggressive:
Health Points:


(100/100)



Name:
Zachariah "Zack" Lovegood
Age:
18
Height:
5'11"
Weight:
202lbs
Appearance: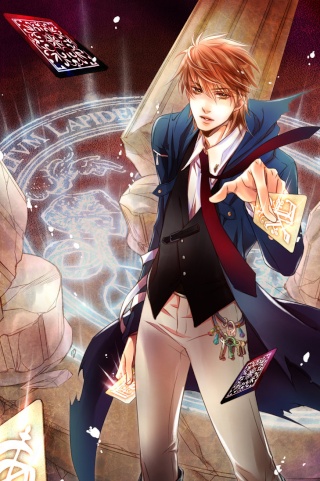 Power:
Tarot Master - With a combination of cards that he uses, Zack is able to cause different effects depending on which he combines. Though only figuring out about his powers less than a year ago, he doesn't have much variety at the moment.
Current Effects: Able to cause a fountain of water to come rushing out of a card.
                       Can lay the combination of cards in a circle to make a trap hole
                        Just like other readers, can predict the future. (Sometimes does it Jokingly)
Weapon:
Cards - His Cards are coated with a special concoction, making them as sharp as a blade.
Distinguishing Features:
Always holding some sort of drink in his hand when not working, and reads everyone's future.
Personality:
Tends to be rather bold and foolhardy
Rank:
 N/A
Bio:
Zack was born and raised in Terminal City. His mother is the assistant dean of the University, Martha Lovegood. He was always raised as a prim and proper high-class socialite. He resented his mother's teaching however, and decided to learn the art of Tarot Reading. He had always been fascinated with the future, and has done tons of readings for friends and other family members. But anytime he does a reading on himself, he gets ominous visions of the future and what could be in story for him. He discovered his powers less than a year ago, and after receiving a vision of him attending TU, He enrolled.
Retired Staff




Posts

: 124


Reputation

: 13


Join date

: 2013-10-21


Age

: 25


Location

: New York
Warning Level (Forum) :
Warning Level (Chat) :

Character Sheet
Name: Shinji Hideaki
Passive/Aggressive: Aggressive
Health Points:


(100/100)



Name: Yuni
Age: 18
Appearance:
Power: Power to control ice, she can use it as a weapon or in defense. She also can prevent ice from hurting her or killing her. She can make weapons out of ice too.
Distinguishing Features:
Personality: Yuni is rather meek individually, but she has a strong conviction to do things she considers right to do.
Rank: (RANK WILL BE PROVIDED FOR YOU BY THE GM UPON COMPLETION OF THE INITIATION TEST OF ALL NEW STUDENTS.)
Bio: She came to Terminal city in order to practice her powers in order to survive, as well as to avoid accidentally harming anyone.
Member




Posts

: 10


Reputation

: 1


Join date

: 2014-05-06
Warning Level (Forum) :
Warning Level (Chat) :

Character Sheet
Name:
Passive/Aggressive:
Health Points:


(100/100)



((Yes another WIP, though this time to make sure spoilers stay as spoilers for people who don't want to know. All major spoilers for her will be hidden under
[[REDACTED]]
at the bottom until they are revealed. Also depending on what's needed she may be acting as a staff character on occasion. Up to the powers that be. And yes, this was copied directly from my character storage thread

Figured it should be here as this is the master list.))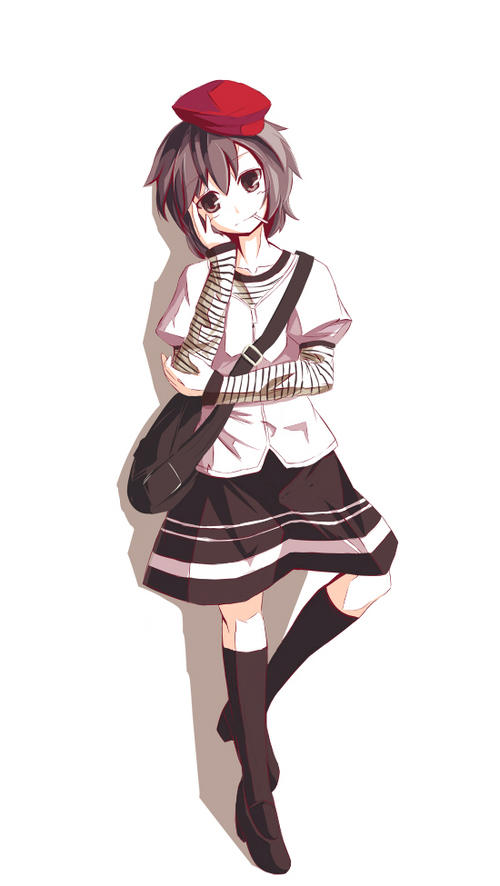 Identification
Full Name:
Tara Rykowski
Nickname:
Spider Queen
Title:
Filthy Little Hipster
Occupation:
University Student
Theme Song:
Stray - Steve Conte
Profile
Age:
18
Race:
Metahuman
Gender:
Female
Height:
5' 5"
Weight:
125 lbs
Skin:
Pale
Hair:
Dark brown
Eyes:
Chocolate brown
Markings:
Large rose tattoo on back
Clothing of Choice:
Long sleeve black and white striped undershirt, white t-shirt, black skirt, black sneakers.
Weapon of Choice:
Usually carries tonfa, smoke bombs, and flash grenades
Accessories:
Black messenger bag, red beret
Personality
Alignment:
Chaotic Good
[[REDACTED]]
Fears:
Killing someone, losing her hat or sketchbook, her past
Positive Traits:
Free spirited. Loyal to a fault.
Negative Traits:
Stubborn.
Mannerisms:
Prone to making nicknames for people. Sometimes speaks in artistic metaphors.  Tight lipped about her past.
Misc. Quirks:
Won't accept drinks from anyone. Slightly addicted to caffeine. Very good at lying.
Likes:
Coffee, messing with Max
Dislikes:
Unnecessary violence
Hobbies:
Drawing, painting, getting into places she shouldn't, leading Max on wild goose chases.
Quote:
"Hold on a second, this light is perfect."
Biography
[[REDACTED]]
Powers
Power Type:
Can bring what she draws to life
Power Rank:
D
[[REDACTED]]:

Biography
Place of Birth: Indus City
Place of Residence: Terminal City
Parents: Lord and Lady Rykowski
Siblings: Lady Sharron Rykowski (sister)
Education: Formal [[REDACTED]], up to mid-university level schooling

Bio: Born as the first child and heir to the Rykowski family, blood testing found her to be an R-Type. Her parents publicly denied her existence. Upon the birth of her younger sister two years later, a healthy normal Metahuman, she was forgotten about entirely. Tara was used from anything to a servant to a messenger. She was found by [[REDACTED]] and fully trained as [[REDACTED]].

However, when she was 16 she was given an assignment to [[REDACTED]] which ended in mission failure. However, she survived and became the bodyguard of [[REDACTED]].

One year and a half after that, during a ball, she chased an assassin through a portal ending up in [[REDACTED]]. She was counted as dead.

She returned to Terminal as an artist, keeping a tight lip about her past. She claims to have no ties to the Rykowski family despite not changing her last name.

Powers
Power Type: [[REDACTED]]
Power Rank: S
Last edited by Seraph on Fri Jun 27, 2014 1:15 pm; edited 1 time in total
Moderator




Posts

: 87


Reputation

: 3


Join date

: 2014-02-03
Warning Level (Forum) :
Warning Level (Chat) :

Character Sheet
Name: Seraph
Passive/Aggressive: Passive
Health Points:


(100/100)



Name:Katama Yumi
Age: 15
Appearance:
Power: Gate of Life,Yumi is able to heal wounds and injuries(she must have knowledge over the damage dealt and its estimated location before she can perform this ability),She can infuse her powers to her arrows to make a light energy beam (damage depends on the target's malice the more malicious the target is the more effective the attack is).When her power activates her eyes gets a yellow colored ring fading in around the pupil
Weapon(s):Bow and arrow
Distinguishing Features:Red ribbon on her hair
Personality:Freindly,Caring,protective of others,good listener,thoughtful
Likes:melon breads,stargazing,singing
Dislikes: Being lonely,seeing others get hurt,
Rank:
Bio:Yumi is Hibiki's younger sister,unlike her brother she was mostly payed attention to by her parents due to her family heritage because of this Yumi tries her best to look after her "Oni-Chan" always greeting him with the usual "Okaerinasai".After a couple of years later she noticed Hibiki coming back home all patched up with bandages and wounds as she asked what happened to him, Hibiki simply told her that he had soccer games. Feeling worried about him She decided to spy on him hoping that she could in someway help her brother.
As she steadily followed her big brother she finds him facing with a group of thugs in the alley.Shocked and scared she ran away crying for help,she then was in the middle of the road when a car was speeding towards her,unable to do anything she closed her eyes feeling a forceful push on her.When she woke up ,she finds herself unharmed and a person holding on to her which turns out to be Hibiki wounded very badly.
Unable to bear the sight of this she cried for her brother to get up and that's when it happened. As the yellow rings appeared on her eyes a bright warm light lit her hand.With that her brother's wounds healed almost immediately as it glowed.As soon as the light vanished she passed out.As soon as she recovered she learnt the truth about Hibiki's strange behavior as he confessed that he has powers, using it to help others and to get rid of bullies in town.Hearing that gave a sense of relief and happiness knowing that her big brother is really a hero and yet gave an uneasy feeling that her brother was getting hurt every single time.
One month later Hibiki was sent to Terminal University due to his powers were discovered hoping that he can master it,after her brother's departure Yumi decided to hone her skills while keeping this a secret from her parents, hoping that she can help others relieve their pain.4 weeks have past since Hibiki left, and not a single word from him has been heard during that time.Worried about this Yumi left home and headed for Terminal in search of her brother.
Theme song:
https://www.youtube.com/watch?v=WctXJTxuHj4
King Of Posts




Posts

: 445


Reputation

: 20


Join date

: 2013-11-07


Age

: 22


Location

: Italy
Warning Level (Forum) :
Warning Level (Chat) :

Character Sheet
Name: Ryuji Tetsuo
Passive/Aggressive: Passive
Health Points:


(100/100)



Page 2 of 2 •
1, 2
Similar topics
---
Permissions in this forum:
You
cannot
reply to topics in this forum