Who is online?
In total there is
1
user online :: 0 Registered, 0 Hidden and 1 Guest
None
Most users ever online was
38
on Fri Dec 27, 2013 1:41 pm
The Card Itself
: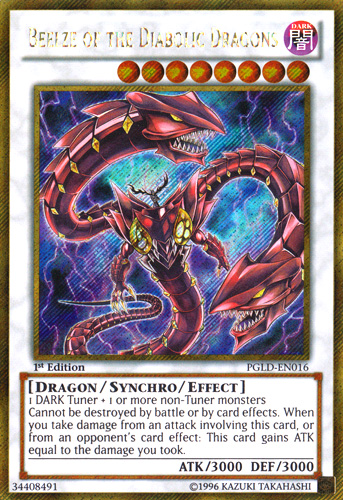 Requirements and Effect
:
1 DARK Tuner + 1 or more non-Tuner monsters
Cannot be destroyed by battle or by card effects. When you take damage from an attack involving this card, or from an opponent's card effect: This card gains ATK equal to the damage you took.
Card Breakdown
:
To synchro summon this monster you need 1 Dark tuner and 1 or more non-tuners whose total level equals 8.
This card can only be removed from the field by means other than destroying it. Meaning you can't attack over it or use something like Mirror Force, Dark Hole, or Dark Armed Dragon to destroy it.
If you take any damage at all when Beelze attacks or is attacked or if an effect is activated like your opponents Gagaga Cowboy that inflicts burn damage to you, Beelze will gain that damage to his attack.
Reasons For Use
:
1. You can easily stall your opponent out with this card if they have a monster with higher attack than you by placing it in defense mode if you don't wanna take damage
2. Cards like Judgement Dragon can't get rid of it without using cards to negate the effect first.
3. Combine it with a Chaos deck or a Zombie deck and it's really easy to get out.
4. You can combo it with cards that destroy all monsters or everything on the field and it'll stay.
Personal Though
:
Overall this card is pretty decent and it's either you can make it or you can't because you need a dark tuner to make it otherwise you might as well for that Stardust, Scrap, or Crimson Blader and due to it having certain requirements to bring out the effect is quite justified. If you're going to put forth the effort into making this card it better be worth making. Honestly I feel this card can stay unlimited because even the decks that can make only run 1 or 2 of it. Let me know what you think?

_________________
Be true in love this you must do unless your love is false to you.
Mr. Diplomancy




Posts

: 283


Reputation

: 17


Join date

: 2013-10-21


Age

: 26


Location

: Fine, New York
Warning Level (Forum) :
Warning Level (Chat) :

Character Sheet
Name: Dragoon Distuba
Passive/Aggressive: Agressive
Health Points:


(100/100)



Nice card, but why use good lvl 8s like Stardust and Scrap Dragon, when you can use something mediocre like, say, Red Dragon Archfiend?
Senior Member




Posts

: 106


Reputation

: 6


Join date

: 2014-01-11


Age

: 23


Location

: Weatherford, TX
Warning Level (Forum) :
Warning Level (Chat) :

Character Sheet
Name:
Passive/Aggressive:
Health Points:


(100/100)



---
Permissions in this forum:
You
cannot
reply to topics in this forum