Who is online?
In total there is
1
user online :: 0 Registered, 0 Hidden and 1 Guest
None
Most users ever online was
38
on Fri Dec 27, 2013 1:41 pm
Terminal City

Name:
"The Abyss" Tsukiko
Age:
16
Appearance:
Spiky silver hair, Golden eyes with silver shining orbs in pupils, Pale skin tone, Black light coat, White button up shirt, Black khaki pants, Gray dress shoes.
Reference:
Power:
Black Hole. Upon making skin contact with any surface, Tsukiko is able to create powerful vortexes of dark energy he calls "Black Holes". While not an actual black hole itself, these vortexes create a powerful suction effect that draws anything within a certain range towards it, and are controlled by Tsukiko's mental focus and will. Tsukiko is capable of controlling the size and devouring speed of any hole he creates to a degree, allowing him to create holes from the size of golf balls, to the size of a fully grown human. He is also immune to any suction effect created by the holes, thus allowing him to move freely without being restricted. However due to his inexperience in understanding his powers and how to fully control them, each hole created can only remain open for 3 seconds before shutting closed, and the more powerful the hole created, the more pressure and focus it takes to create and maintain. Also, due to the amount of pressure and control it takes, Tsukiko is only capable of opening a new hole with a 5 second cooldown time between each one, less he put more strain on his mind and risk damaging himself. Furthermore while the vortexes are capable of absorbing things into them, they can not devour anything that exceeds the size of the hole itself. So a hole the size of a golf ball is incapable of devouring anything that cannot fit inside it, though it can still draw objects towards it with the suction effect it produces.
His body also has an automated defense mechanic he calls "Black Wall", where anything considered a "threat" to his body that comes within 3 feet is intercepted by an automated black hole. However Tsukiko is incapable of shutting down this "defense", and as such, must quickly and forcibly shut any black holes that would accidentally awaken if something "non-threatening" came within range, like a girl accidentally riding her bike at him, else he accidentally destroy the bike...or worse.
Weapon(s):
Wristblade (Beginner). Tsukiko's combat style focuses on constantly moving and getting in close to opponent's, striking them hard with both a deadly assault of self taught Martial Arts, and instantaneous black hole creations. Despite not having used a real weapon before, Tsukiko's choice of a wristblade fits with his close combat fighting style, allowing him to maintain his momentum due to its' light weight, while adding a dangerous tool to his arsenal. Also as his powers require contact with a surface, this allows him to create an automatic black hole in mid air by tapping the extended blade with his fingers.
Flash/Smoke Bombs (Journeyman). While his "Black Hole" ability is powerful, it is also dangerous and sometimes wild. As such there are times where Tsukiko wishes to avoid using it, whether it be due to possible collateral damage, or bodily harm to someone. To avoid either scenario, Tsukiko sought out other ways to counter enemies without using his powers. While proper self defense fighting was one such lesson, another involved a more "tricky" approach. Despite not being an expert in the field of bomb crafting, years of training and practice have given Tsukiko enough experience to be able to create small hand held explosives that can produce either a thick black smoke, or a bright burst of light. These allow him to gain the time and advantage required to either escape from a conflict, or use the opportunity to strike a crucial hit.
Distinguishing Features:
Whenever Tsukiko creates a black hole, the whites in his eyes turn black, the yellow iris turns blood red, and the silver orbs in his pupils glow brightly.
Personality:
Quiet, Polite, Helpful, Kind, Hesitant to make friends, Anti-social, Dislikes unnecessary violence, Protective of the innocent or hurt, Hates those who look down upon others, especially for stupid or disgusting reasons, Will fight for what is right
Rank:
D
Bio:
One rain-filled night, a strange newborn baby boy was left on the steps of "Serias' Orphanage for the Lost", with no indication or clue as too where he came from or who he belonged too. Taken in by the kind group of nuns who owned the orphanage, the baby was named Tsukiko, after the clouds had cleared, and the lights of a clear full moon descended upon the sleeping child revealing his silver hair. Growing up in the orphanage and raised by all the nuns, the boy became well known and loved by all the orphans and was dubbed their "Onii-chan", even by some of the older orphans, due to his caring nature and strong leadership over the children.
One day though, at the age of 12, a group of Yakuza thugs tried to force the Orphanage into giving up money for "protection services", or else they would kill the children. Unable to witness his family be hurt, Tsukiko stood up to the Yakuza and was beat down by them for it. Hurt and ready to surrender to the pain, the cries of one of the girls he cherished forced Tsukiko to his feet, as he jumped into the path of a bullet that was meant for the child. However the bullet never hit.
When he awoke next, Tsukiko had discovered the entire yard was destroyed, the front of the orphanage was missing, and the Yakuza thugs were dead. The head nun explained that before the bullet had hit, Tsukiko's eyes had changed in color, and he had opened up what could only be described as a "Black Hole", that devoured everything in it's path, including the orphanage and Yakuza. However this was not the worst news. He soon discovered that his body was forming black holes against his will, directly intercepting any and all "threats" that came within 3 feet of his body, and that his body had become a form of black hole as well, able to devour anything he touched. Including the children and nuns.
Hurt, confused, and pained at both what was happening and the fear he saw in his loved ones, Tsukiko, made the difficult choice to leave the orphanage in order to protect those he loved most for fear of what could happen. In tears and heartbreak, he smiled to his family, promising to discover what happened to him, and that one day he would return after controlling it.
Four years later, Tsukiko while having gained great control over his abilities, is still unable to turn off his "Black Wall" effect, or understand how his powers truly work, and thus keeps himself an outcast in society, for fear of hurting others. One day however he was approached by Sarah Lancaster, Chief Scientist of Terminal City, who had heard of the mysterious meta-human called "Abyss", and was interested in meeting him. She then explained what exactly Tsukiko was, and more importantly, where he could go to learn more about his ability, and even control it. Agreeing to her terms, and to her offer of help, he was soon directed on his way to Terminal City, and to Terminal University, where he may finally receive answers.
Last edited by TrueHeartKnight on Wed Jul 23, 2014 10:26 pm; edited 1 time in total
Dedicated Member




Posts

: 263


Reputation

: 15


Join date

: 2014-01-18


Age

: 28


Location

: New Jersey
Warning Level (Forum) :
Warning Level (Chat) :

Character Sheet
Name:
Passive/Aggressive:
Health Points:


(100/100)



BLEACH
Identification

Full Name:
Yuurei (given to him by Rangiku, doesn't known own name)
Rank:
Academy Student
Theme Song:

Profile

Age:
Looks to be 15 - 16
Race:
Soul (Shinigami)
Gender:
Male
Skin:
Looks normal, seems to turn pale in moonlight
Hair:
Dark purple/black
Eyes:
Amber, sometimes glowing in moonlight
Markings:
Doesn't seem to have any
Uniform:
Standard Shin'o Academy men's uniform
Casual Attire:
Yellow heavy coat with dark brown short sleeved shirt, tan colored jeans with black dress shoes.
Accessories:
Carries a strange circular object with a white cloth at all times on his person, appears to be openable.
Personality

Alignment:
Unknown
Motives:
To try and remember past and own name
Positive Traits:
Is polite and kind to others, is helpful, a fast learner, loyal to those he trust, protective and willing to defend those in trouble.
Negative Traits:
Doesn't talk much, is a bit anti-social, when angered becomes very dangerous and cold, doesn't seem to care for own bodily harm.
Mannerisms:
Polite, relaxed posture, listens to others attentively, a bit anti-social.
Likes:
Rangiku Matsumoto, Toshiro Hitsugaya, reading and learning, training, cup ramen
Dislikes:
People threatening, yelling at, or speaking badly about Rangiku or Toshiro, people treating others badly or putting them down, being mocked for his own memory loss
Hobbies:
Unknown
Quote:
Biography

Place of Birth:
Unknown
Place of Residence:
Residence of Rangiku Matsumoto.
Parents:
Unknown, treats Rangiku as a mother figure while Toshiro as an uncle figure.
Siblings:
Unknown
Education:
Shin'o Academy
Bio:
Injured, unconscious, covered in blood and holding a strange sword, he was found by Rangiku Matsumoto shortly after the events of Banner's "assassination", and was taken back to Soul Society for healing. After being healed and brought back to consciousness however, it was discovered the boy had no memory of his name, where he came from, or who he was. He didn't even know what a Shinigami or souls were. This made things complicated as nobody in Soul Society seemed to know him or recognize him in anyway, nor was he recorded of even being in the Society, which made him suspect amongst many of the Captains and Lieutenants.
Nervous and scared, the boy quickly drew himself close to Rangiku for protection and security, and strangely formed a warm place in her heart.
After convincing Toshiro to agree, Rangiku offered to take the boy under her roof and watch over him until he graduated from the Academy, where he could go to be retrained and taught the ways of Soul Society, and possibly remember who he was and what had happened to him. With the support of Alexander Burke and Kisuke Urahara, the agreement was met, and the newly named Yuurei began to start his new life, and his quest to remember who he was.
Zanpakuto

Name:
Unknown
Sealed Form:
The sheath of the Zanpakuto is a clear snow white color with an oddly designed sharped edge along one side and towards the tip, resembling a sword blade in itself. The guard and sword handle are both white colored as well, with the guard shaped like a reverse yin/yang symbol. Strangely, four sets of black chains seemed to be wrapped around the Zanpakuto from edge to edge, preventing the blade from being drawn by anyone, even Yuurei.
Dedicated Member




Posts

: 263


Reputation

: 15


Join date

: 2014-01-18


Age

: 28


Location

: New Jersey
Warning Level (Forum) :
Warning Level (Chat) :

Character Sheet
Name:
Passive/Aggressive:
Health Points:


(100/100)



Name:
Kazuko Hogosha
Age:
16
Appearance:
Silver hair, Saphire eyes, wears a hoodie, slightly muscular body but is slightly short in height compared to most his age.
Reference:
Distinguishing Features:
Is sometimes seen talking to self, but is really talking to the Guardians.
Personality:
Kind, Polite, Caring and Loving for children, A good listener, Selfless, Wishes to help those in pain or sorrow, Hates injustice and suffering, Will protect those in danger or being hurt, Will put self in harms way to protect others, EXTREMELY embarrassed and shy around women to the point of sometimes fainting
Guild:
Cait Shelter
Bio:
Kazuko was born into a world of harshness and cruelty. His father abandoning him before he was born, and his mother dying at the age of five, Kazuko was forced to grow up on the cold and cruel streets of the city he lived in. He scavenged for food and was forced to steal from others, all the while being treated like an outcast.
Despite this, Kazuko never let it break him. He lived with a small group of other orphans and found a place to call home and family, as they each looked out for and helped each other. Kazuko cared more for their safety and health than his own though, and so whenever they felt down or sad, he always put on a smile to cheer them up. This smile of his was often called beautiful by the females of the group, which always embarrassed Kazuko to such a degree he would sometimes faint.
However despite this, Kazuko still felt alone, as he wasn't sure what he was supposed to do with his life or for the others. He wanted to try and make things better, to try and change things for others so they too could smile, but was afraid and unsure of how he would be able too, and feared failing others. Because of this he always secluded himself in his own thoughts and formed a set of imaginary friends who he could confine in and who supported and gave him strength. Strength to believe that there was a way to fulfill his dream. To show beauty in this world, and with it, hope.
That faith would be tested when at the age of eight, a group of thugs found the home of the orphans and tried to force them out so they could use it for themselves. The orphans and Kazuko refused, but were forced out viciously and fearfully as the thugs destroyed their home piece by piece. Watching his home and friends be hurt before him, Kazuko tried to stand up to the leader but was beaten down savagely by him and his strange magic. Despite this Kazuko still stood up, despite the cries of his family, and strangely enough, his imaginary friends. The leader having enough, created a powerful blade of magic to end the boy's life.
However one of the orphans, a young girl only four years old, ran in front of him to protect Kazuko. Terrified and panicked, Kazuko tried to force the girl away, but she refused even as the leader swung his blade. With no other option, Kazuko hugged the girl and turned his back to protect her, while screaming for someone to help them.
That help came in the form of a bright light from Kazuko's body, as four figures suddenly emerged and defeated the thugs. Kazuko watched in amazement, only to fall over unconscious a second later.
When he awoke, Kazuko found himself in the Mages's Guild Hall of the city. He was greeted by a beautiful woman named Jasmine, who explained that she had been watching the events unfold and had planned to intervene until Kazuko's unexpected burst of magic. Confused by everything, Kazuko was suddenly greeted by the voices of his imaginary friends, and was shocked when a light emerged from him and formed into a white knight with angelic wings.
What shocked him more though was when the knight introduced himself as Gabriel, one of Kazuko's imaginary friends. Jasmine and Gabriel quickly explained that Kazuko had a strong aura of magic about him, and that he had unknowingly unlocked it the first time he had made Gabriel in his mind. His magic allowed all of his friends he had created to come to life and have their own free wills, and were now able to take physical form, though Kazuko nearly fell into unconsciousness again from the sole act of Gabriel emerging.
Confused but happy, Kazuko couldn't help but cry tears of joy. His friends he had imaged for so long, the ones who had been with him and always defended him, were real. They were real and with him now. He was no longer alone.
After being told of the state of the other orphans, Jasmine offered Kazuko an apprentice ship, believing that he could become a great and powerful mage with his ability, but that he needed proper training and understanding of magic. While hesitant at first, Gabriel told Kazuko that he should accept, as if he did, he could meet his other friends, and that together they could fulfill the dream and promise he had of making the world a place full of hope and beauty.
Kazuko, now supported by his new friends, agreed to the deal and left the city with Jasmine after saying goodbye to the other orphans.
Eight years later, Kazuko makes his way to the Guild known as Cait Shelter, as a small girl sleeps on his back.
Magic:
Guardian Magic:
A Caster-Type of magic developed by Kazuko himself. Kazuko is capable of summoning large and powerful magical spirits and creatures called "Guardians" from his body that assist him in any situation. These Guardians however are not mere constructs of magic however, as each one is an actual living and breathing creature that is born from and resides inside Kazuko through his magic. Each one is capable of their own thoughts as well and has their own free will, though they do seem to work in perfect unison with Kazuko and follow his words well.
Kazuko is able to mentally communicate with each Guardian, allowing them to work in tangent without having to say a word out loud to anyone. He is also able to use each Guardian's own power to a small degree on his own as well as at the same time, though they themselves are in weaker states. Kazuko is capable of summoning multiple Guardians at once, however the strain and will to do so grows as he must divide his magic and soul amongst them equally, which is dangerous if he is injured or unfocused. Because of this Kazuko has been limited to only calling two Guardians at max until he is capable of getting stronger.
According to Kazuko, the Guardians are created from his soul and magic, and are crafted from the bonds he makes with people. Whether this is a piece of his soul and mind that has been shifted into a living form or simply a construct brought to life is yet unknown.
Take Over Magic: Guardian Soul:
Kazuko learned Take Over Magic five years ago, in hopes of having a better connection and understanding towards his Guardians. He is also practicing on a way to be able to fuse himself with any of his Guardians, in order to combine their strength and become an ultimate fighting force capable of defeating any foe. As of now Kazuko has still not fully grasped how to combine his own physical form with his Guardians, but is capable of taking on certain traits of each one.
Guardian:
Gabriel
Appearance:
Bio:
A set of angelic armor radiating with white light, Gabriel was the first Guardian born from Kazuko, and has a strong, noble, and honorable personality. He has a strong sense of justice and wishes to see the innocent and pained be healed of their suffering, similar to Kazuko. He hates injustice with a passion, and seeks to see evil and darkness be vanquished so that nobody may be hurt again. Of the Guardians he is the oldest and the one they see as leader next to Kazuko. Because of this he usually tries to keep them in line and focused, though he often finds that difficult with Kit and Cheshire, who just enjoy trying to mess with the angel.
Being a set of angelic armor, Gabriel is armed with a powerful sword and shield of light, capable of both great defense and offense. His spiritual body allows him to move at great speeds and possess immense strength, allowing him to fight even seasoned warriors. As his power is based on light, Gabriel is capable of forming several light spells used for both defensive and offensive purposes, as well as able to blind enemies. His wings also allow not only for flight, but a secondary weapon, as he can fire feathers of light at high speeds towards his enemies as well as deflect most basic attacks with his wings.
Kazuko is able to use a bit of Gabriel's physical strength on his own, allowing him to take more beatings and strike harder than a normal person. He can also summon a small light sword to his side and is capable of forming quick explosions of light to blind his enemies. Using Take Over Magic: Gabriel Soul, Kazuko can form his own set of angelic wings to allow for flight, though not nearly as well as Gabriel.
Guardian:
Kit
Appearance:
Bio:
A black fox of pure flame, Kit has a rather calm but clever personality, always liking to make jokes here and there and enjoying a good fight and hunt. He gets along well with Kazuko and enjoys teasing the poor boy, whether it be him fighting, or with women. He also has a tendency of purposefully trying to piss off his opponent's so as he can outmaneuver them and use their anger to his advantage.
Being that he is a fox of pure flame, Kit is quite agile and fast, allowing him to move at high speeds as well as leap upon tall structures with ease. Since his body is pure fire, he has the ability to spread his fire anywhere he moves and touches, as well as choose what it burns. The flames can also act accordingly to Kit's will, as they can form a defensive armor or barrier around anything he wishes. Kit is also capable of taking a solid form with his flames which to allow others to ride on his back. The flames themselves are very strong, capable of burning almost anything outside the strength level of Dragon's Skin. Also since he is a fox, he has the instincts and senses of one, allowing him to hear and smell things others can't.
Kazuko is capable of using the speed and agility that Kit possesses, as well as a small amount of Kit's own flames from his hands and feet. While he is able to fire the flames from his hand and manipulate them slightly, he cannot control what they burn away, and so must be careful. Using Taker Over Magic: Kit's Soul, Kazuko can gain Kit's senses of sight, hearing, and smell, and his face partly transforms to that of a fox.
Guardian:
Airi
Appearance:
Bio:
A cute and tiny fairy, Airi is a kind and sweet Guardian who loves Kazuko very much. She has a childish personality and is extremely fascinated by even the tiniest of things. She is however extremely shy of strangers, and when not in a serious situation, usually hides behind Kazuko if summoned. She is so shy that Kit constantly teases her about it, stating that she is just too cute NOT to tease. Despite this she cherishes life and love, and believes that Kazuko can one day make this world beautiful and kind for everyone.
While lacking in combat skills, Airi is well versed in many forms of defensive and healing arts. She is capable of forming and activating many shields, seals, glyph, and binds with only a few simple words, allowing her to change the flow of battle easily to her allies favor. Her small size also allows her to go into spaces others cant, as well as able to easily maneuver around objects or attacks. While her healing magic is not as vast, she is capable of healing most physical and internal injuries, as well as cure minor illnesses. She is unable though to fix fatal injuries or stop curses, as she is not strong enough to cast such magic. Also if she is unable to identify the problem of someone, she can do nothing for them.
Kazuko is able to cast minor defensive shield spells and seals of Airi's on his own without trouble, though it takes a bit longer for him. He also is capable of using minor healing spells to close cuts and wounds on a person's body. Using Take Over Magic: Airi's Soul, Kazuko can shrink his size down to about double what Airi is, and forms a sec of dragonfly wings to allow for flight.
Guardian:
Cheshire
Appearance:
Bio: A clever and witty neko woman, Cheshire is a carefree and fun loving Guardian who barley wears clothes and always wants to relax and enjoy life to the fullest. She loves getting drunk and partying, and apparently can pull out random bottles of alcohol from nowhere, something every Guardian and Kazuko are unable to figure out. She also constantly tries to get others drunk so they can part with her, especially the Guardians. Cause of this she and Kit greatly enjoy each others company and enjoy just messing with people. She also has a strangeness for cute things, causing her to constantly dawdle on Airi. Despite her carefree attitude, she cares deeply for Kazuko and acts as a mother figure towards him and Airi. She offers strong advice and words to both when they feel down and lends them a lap or shoulder to cry on when sad. Of the Guardians she is the one who sees the good and bad of the world as an equal, believing that even beauty must start from pain.
Despite her attitude and personality, Cheshire is a fierce combatant in close combat. Agile, fast, and having very nasty claws and fangs, Cheshire is a force to be reckoned with in close quarters and is shown to be able to tear through nearly the toughest of metals with her claws. Her tail also serves as a distraction and fifth appendage for which she can use to attack enemies or distract them. She also has minor control over the wind, allowing her to create small gust at her opponents to push them back.
Kazuko has been trained by Cheshire in her combat style and is quite efficient in using it for close quarters. Using Take Over Magic: Cheshire Soul, Kazuko grows his own set of fangs claws, ears, and tails similar to a cat's. This allows him to be more dangerous in close quarters, as he gains an increase in reflexes, and his claws can cut through most metals.
Dedicated Member




Posts

: 263


Reputation

: 15


Join date

: 2014-01-18


Age

: 28


Location

: New Jersey
Warning Level (Forum) :
Warning Level (Chat) :

Character Sheet
Name:
Passive/Aggressive:
Health Points:


(100/100)



Name:
Hikiko Kinoshita
Age:
17
Gender:
Male
Appearance:
Weapon:
Yumi Bow
Personality:
Cold, Intellectual, Blunt, Polite, Bookworm, Never speaks unless spoken too, Enjoys quiet, Cares little for friendship, Helps others who require assistance
Mannerisms:
Speaks in a calm and polite tone, observes and calculates situations before moving or acting
Quote:
"If you wish to go around making friends be my guest, but do it yourself and away from me. I have always been fine on my own, and will continue to do so."
Bio:
A second-year high-school student, Hikiko has always been an outcast when it comes to the social norm of a teenager. Never speaking to anyone unless addressed. Always studying and keeping to his books. Always at a distance from other students or teachers.
And especially, not having one person to call a friend.
Because of this, many of the students look upon him with weirdness and difference. Nobody tries to get close due to his quiet but cold nature, and those that have usually leave soon after. Others meanwhile try to make fun of or insult Hikiko, though with little success. None of the students even know where he lives or what his family is like.
Yet Hikiko does not mind this and actually prefers to be alone. When not in class he is usually found reading in either the library, or outside sitting beneath the Sakura Tree near the school. He is also sometimes found with the archery club, where he displays tremendous skills with a bow, though he has declined captain Haruna's offer to join several times.
Despite his distant and cold persona, Hikiko is willing to lend an ear or aid to those who need it, even if they are put off by his presence. Because of this there are some in the school who actually go to him when in need of help, whether it be for lessons, helping to create something, etc etc.
PERSONA
Name:
Black Knight
Appearance:
Arcana:
Moon
Abilities:
Cresent Bisect (Cost: 9% HP/ Deals light Slash damage to one foe)
Abyss Claw (Cost 5 SP/ Drains 35 HP from one foe)
Strengths:
None.
Weaknesses:
Unknown.
Last edited by TrueHeartKnight on Mon Jul 28, 2014 2:52 pm; edited 1 time in total
Dedicated Member




Posts

: 263


Reputation

: 15


Join date

: 2014-01-18


Age

: 28


Location

: New Jersey
Warning Level (Forum) :
Warning Level (Chat) :

Character Sheet
Name:
Passive/Aggressive:
Health Points:


(100/100)



Pacts of the LostName:
Mugen
Age:
Unknown. Approximately 13-15
Height:
5'2"
Weight:
126Ibs
Hair/Eye Color:
Light blue hair, emerald eyes.
Marking From Pact:
Mask (Mask appears and hides face to those with another contract or when in danger).
Appearance:
Mask:
Weapon:
Biography:
Sometimes I question if what I did was right.

Was what I sacrificed worth it in the end? Was whatever I did or whoever I helped meaningful to me at all? Was it something I was happy for, or did I despise myself or the situation?

I suppose in the end I'll never know. Not like partner would tell me if I asked. He'd just say "That life is over already. Let it go and focus on the now, because the now will change the future of this place."

He liked to always sound smart like that, though I know at times even he can act childish.

It must sound weird though. Why am I sounding as if I don't know if what I did was worth it? Why don't I sound sure or at least aware of it?

Well that's because I don't remember it.

In fact, I don't remember anything at all.

See, when my partner brought me back from deaths door, did I mentioned I died by the way, he took my existence from this world. Who I am or was, where I came from, even my own death. Even my name was simply given to me by my partner.

The furthest my memory goes is that moment of waking up in the hospital, and speaking with partner. Anything else was removed from my mind and this world, since according to him he also erased any traces of my existence. Even the doctors from the hospital didn't know what happened to me or how I ended up there.

It was as if I had been plucked out of the world like a weed.

I should hate him you know. A part of me should despise what he took. I mean it was my life right? It was whoever I was before this craziness started and I should be livid because of it.

But in the end how can I hate my partner when I don't even recall what it is he took from me anyways? Besides, it's not like I wasn't given anything in exchange. And I have to admit, for all the trouble he's gotten me into, this has been a fun adventure we've had.

It's funny. I've probably repeated this sort of dialogue before at least several times already. I know it may seem repetitive, but it's because I don't want to forget again. I don't think partner would do that, but if something happens to me to make me lose again, I want to be sure that I will understand and believe everything that's happened.

Hope you understand.

Still, there's one thing that I can never get over or understand. Why did partner pick me anyways? He said he needed someone to act as his voice for an event that was to come, but I don't get why me of all people. What did I do to catch the attention of a god?

And why have so many others become involved in this as well?

Ah, partners calling me again. Seems it's finally time to move on again.

Hopefully I'll get back to you soon my friend. It sometimes feels like outside of partner, your the only one who will listen to my story well. Not that the other contractors don't, but it's not the same you know.

Anyways, see you soon.

Mugen.

Day 61 since Rebirth
Deity/Creature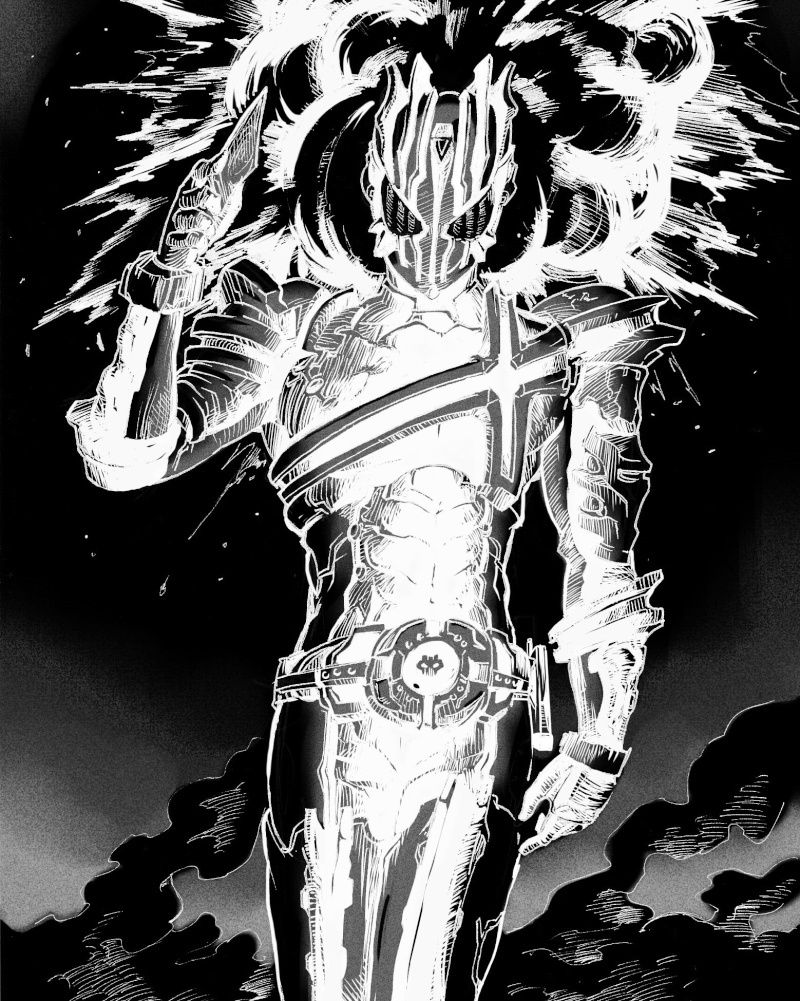 Name:
Unknown, Referred to as "Partner"
Age:
Unknown
Powers Received:
Dimensional Travel (unexplained), Reality Mimic (Capable of mimicking another contractors powers for a short time. Can only mimic one power at a time and only if a "specific condition" has already been met).
Reason For Pact:
Is preparing for an event that is to occur within the future lifetime of Mugen. He choose Mugen to be his vessel, voice, and "partner" for this event, though he does not explain fully his reasons for choosing Mugen.
Lost Piece:
Existence. Has no memory of himself or past. Anything in the world connected to his memory or past has been erased entirely (memories, photos, birth certificate, etc etc).
Dedicated Member




Posts

: 263


Reputation

: 15


Join date

: 2014-01-18


Age

: 28


Location

: New Jersey
Warning Level (Forum) :
Warning Level (Chat) :

Character Sheet
Name:
Passive/Aggressive:
Health Points:


(100/100)



M.U.S.E (Musically Unmanned Synthetic Enforcer)Name:
Kigen Onpa
Gender:
Male
Age:
15
Grade:
Freshman (St. Serenade)
Appearance:
Personality:
Shy, quiet, nervous, insecure, loyal, helpful, kindhearted
World Lore:
Music. It is the connection and unification of noises and beats in order to create a symphony of sounds that are pleasant to listen to.
Nothing is more true than the city of Harmonia. A futuristic metropolis built upon the power of music and sounds, giving birth to large technological advancements and lifestyles thanks to the power of ECHO, the nano machines capable of turning sound-waves into raw energy, as well as being able to shape that energy into solid masses.
It also lead to the creation of the worlds greatest achievement, MUSE'S.
MUSE's are cybernetic suits built and produced world wide. A MUSE is capable of many features and runs on the ECHO nano machines by producing energy from the sound-waves loaded into the suit. The more powerful and symphonic the sounds, the more energy and power a MUSE can use and create.
However realizing the dangers of such technology in the wrong hands, ECHO technology as well as MUSE'S, were redesigned around a unique coding pattern to prevent plagiarism, theft, and other worst case scenarios. Each ECHO device or MUSE will only respond to the original tone and song of their creator. Meaning that even if a song could be downloaded or played online, nobody could use that same song or the sound-waves it produces for their own.
Meaning that for anyone to own or use a MUSE, or anything powered by ECHO tech, they had to be able to create their own unique sounds and beat. Despite this new "limitation" ECHO technology and MUSE'S became insanely popular and worldwide, and became major part of everyday life style. From learning, to jobs, to even entertainment, the most popular of which was MUSE battles.
MUSE battles were a contest of skill and fighting ability, where musicians from all over the world would create their own songs and music, and throw down in a fight between their MUSE'S to see who was the better musician. It became so popular so fast, that annual tournaments are held every couple of years to crown a MUSE champion, a person who is seen as the greatest musician and MUSE fighter at the time. The current champion, Liliana van Handel, has been an undefeated MUSE fighter for the past six years, and is seen as the idol of musicians and sound everywhere.
And is is this form of entertainment and desire that Kigen Onpa has set his sights on.
Biography:
When Kigen was thirteen he was betrayed and heartbroken by a girl whom he loved. Her reasons for the betrayal were both due to his nervous and weak willed personality, and his inability to create even a single song or beat of his own, saying he could never survive in a world like theirs. After this event Kigen desired to no longer be seen as weak, and made himself a dream to become a MUSE champion.
Despite this dream however, even at the start of his freshman year, Kigen was unable to produce an original song of his own or even create his own MUSE. However after entering a special event to see the latest MUSE battle in the city, Kigen is selected as the "Special Guest" who will go on stage to have a one on one fight with the one of the fighters.
Realizing what would happen if he didn't show up, considering his entire school learned, Kigen searched around the city for a MUSE, but all the ones he could find were too much for him to buy. Desperate Kigen went to the nearby local junkyard outside the city in search for pieces of a MUSE in hopes of building one.
What he found however was a fully intact MUSE, slightly damaged but still operational. However he also found a strange square object hidden inside of it, attached with a small set of earphones.
This would be the event that changes Kigen's life, as well as the world of music and MUSE'S.
For the device he held was something not seen in the strange world of music and sound. For it was a device that not only held over 100,000 songs of different people, but also something that had never existed or been heard of before.
The sound of the voice.
MUSE
Beethoven
Dedicated Member




Posts

: 263


Reputation

: 15


Join date

: 2014-01-18


Age

: 28


Location

: New Jersey
Warning Level (Forum) :
Warning Level (Chat) :

Character Sheet
Name:
Passive/Aggressive:
Health Points:


(100/100)



Chrono Trigger

Name: "Destroyer"

Age: Mid Twenties

Occupation: Passing through the worlds, butting into other people's business, helping those in trouble, defeating evil

Apperance: Brown short straight hair, brown eyes

Clothing: Depends on world he's in

Era: Began in present day, now travels through all

Personality: Hypocritical, self righteous, pompous, sarcastic, calm, intellectual, cunning, just, protective, desires to "catch the worlds"

Likes: Photography, being good at everything

Dislikes: People trying to destroy others dreams, those who would harm others, thieves, evil

Goals: To catch and continue passing through the worlds

Weapon: Interchangeable belt, series of cards

Element:

Bio: Just passing through the world.
Dedicated Member




Posts

: 263


Reputation

: 15


Join date

: 2014-01-18


Age

: 28


Location

: New Jersey
Warning Level (Forum) :
Warning Level (Chat) :

Character Sheet
Name:
Passive/Aggressive:
Health Points:


(100/100)



D.E.A.T.HName:
Necro
NN:
Fangs
Age:
19 -20 (Appearance)
Height:
5'6
Weight:
147 Ibs
Eye Colour:
Pure black (grow red slit pupils when feeding)
Hair Colour:
Pale Blond
Nationality:
Unknown
Blood Type:
None
Body Type:
Toned but slim
Zodiac Sign:
Taurus
Species:
Vampire
Power/Abilities:
Blood Sense: (Able to smell, hear, and see far better than any mundane creature, especially in the dark.)
Healing Bite: (Able to transfer own blood into another for temporary advanced healing and boost in power. Does NOT turn someone into a vampire. Weakens own self when done.)
Shadow Form: (Able to shift parts of body into a shadow like mist, able to become intangible to certain attacks as well as slide through cracks and narrow openings. Moves much faster and move through air when fully transformed.)
Bio/Reason of joining D.E.A.T.H:
Report 1897-B

Subject: Vampiric male, age appearance of late teens early twenties.

Date: Classified

Location: Classified

Description: On (Classified), D.E.A.T.H. HQ came in contact with reports of an attack on civilians at (Classified) by a tall slim faceless figure in what was described as a black suit. Squad 02A was sent to investigate.

73 minutes later Squad 02A arrived a location and began investigation of the area. After 15 minutes, static noises and disruption of instruments began to occur. Contact was maintained yet harder to hear as visuals also became blurred. Three minutes after this event, squad mate Arnold Rodriguez suddenly went silent and his vital signs disappeared. Squad leader and commander Kairi Kurokawa tried contacting Arnold with no results, and ordered her squad to find him.

Five minutes later a scream was heard by squad mate Jessica Miles, as her vital signs also vanished. Kairi ordered her remaining squad to source of scream. At this time visual was completely lost and sound was interfered with by loud static.

Two minutes later sounds of gunfire and screaming could be heard. Contact was attempted to understand situation but static interference prevented squad from receiving orders. Vital signs of all remaining squad members began to drop one at a time until only commander Kairi was left.

Then over static, a loud hissing noise and screech was heard as sounds of explosions and destruction could be heard, with commander Kairi being completely silent but vitals still alive. This continues for four minutes and twenty-eight seconds before static interference faded away and visuals came back.

Sight revealed was a complete destruction of the local (classified) and the bodies of all squad members were (classified). However standing among the wreck was a young blond male, covered in many open wounds, wearing shredded clothes, and bleeding profusely from the chest due to an open wound.

Boy then turned to commander Kairi, revealing a set of pure black eyes, and asked if she was alright. Kairi responded in term by aiming her sidearm at the figure, who stood in place and stared with possible concern and worry. Boy continued to insure he wouldn't harm commander Kairi, but commander Kairi ordered the boy to explain what he did and what he was. Suddenly boy began wavering back and forth before falling over. After a brief moment of recollection and recovery, commander Kairi walked over to the boy and checked on his vitals.

No pulse and unmoving. Classified as dead.

However analysis equipment and sounds amplifiers suddenly picked up a groan of pain from the boys' mouth and twitching of body. Commander Kairi confirmed the noise and movement, but was still unable to pick a pulse up from boy. Commander Kairi was then asked to open the boys mouth by (Classified).

What was found was a set of incisor teeth along upper jaw. Subject was tagged as a vampire.

After a moment of checking on the remaining squad, commander Kairi was ordered back to base with the vampiric subject for debriefing and interrogation.

Upon awakening, the first words were concern over commander Kairi, much to everyone's surprise. When asked for subjects name, subject introduced himself as "Necro".

(The rest of report is classified and only accessible to those of Class A or higher)
Anima:
Pair of black metallic gauntlets with sharpened finger tips and bladed edges. Gauntlets reach up to elbows and are each embedded with a gem within on top of the hand, right one is red, left one is blue. Each gauntlets sharpened "claws" are able to slice clean through most man made material and even supernatural ones. The gauntlets are also extremely endurable, able to take hits from supernatural and technological based weaponry and attacks and remain unscratched.
Main feature of the gauntlets are the pair of "angel hairs" that emerge from each finger tip. The "hairs" are a set of very thin strings or wires that are near invisible to the human eye and can be manipulated and twisted by Necro to grab hold of or slice into anything he wishes. The "hairs" seem to have a maximum range of 10 meters and are able to slice clean through almost any material. Necro himself can control whether the strings will slice into an object or not,.
Looks: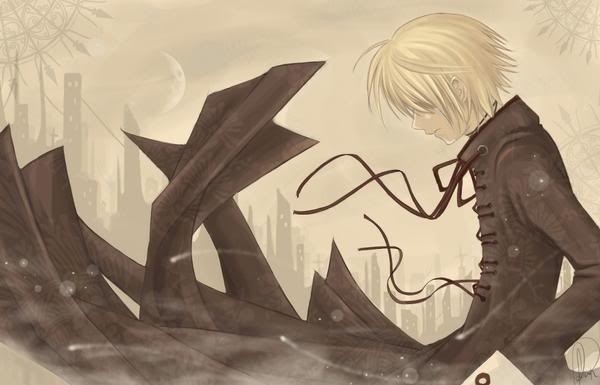 Others:
Refers to a "master" who he does not speak name of, but is confirmed to be female. Refuses to feed on the blood of anyone.
Dedicated Member




Posts

: 263


Reputation

: 15


Join date

: 2014-01-18


Age

: 28


Location

: New Jersey
Warning Level (Forum) :
Warning Level (Chat) :

Character Sheet
Name:
Passive/Aggressive:
Health Points:


(100/100)



---
Permissions in this forum:
You
cannot
reply to topics in this forum