Who is online?
In total there is
1
user online :: 0 Registered, 0 Hidden and 1 Guest
None
Most users ever online was
38
on Fri Dec 27, 2013 1:41 pm
Do Qlis have their 1800 Lv 4 Stats stay under Skill Drain?
Qlis....we know them. We hate them. Earth Pendulum Machines that continue to be pains and won't stop......however...
Did you know their 1800 level 4 stats is NOT an effect?
http://www.ygorganization.com/ocg-next-challengers-rulings-more-rulings/
This link states that the level 4 1800 stats of all qlis is not a Continuous, Ignition, Trigger, or Quick effect.
Interesting....so then what happens when Skill Drain is out?
Reason I ask is because Skill Drain does not work on effects that are not treated AS EFFECTS. What does this mean though for Qlis?
I had skill drain on these guys because I have checked, researched, and spoken to people who claim that Skill Drain would not affect their cards. And yet the judge EGamerozo from DN says otherwise, stating I am wrong because it's unknown by Konami.
I want opinions.
Do you believe Skill Drain stops something that is not an effect in the first place? Post a vote and tell why.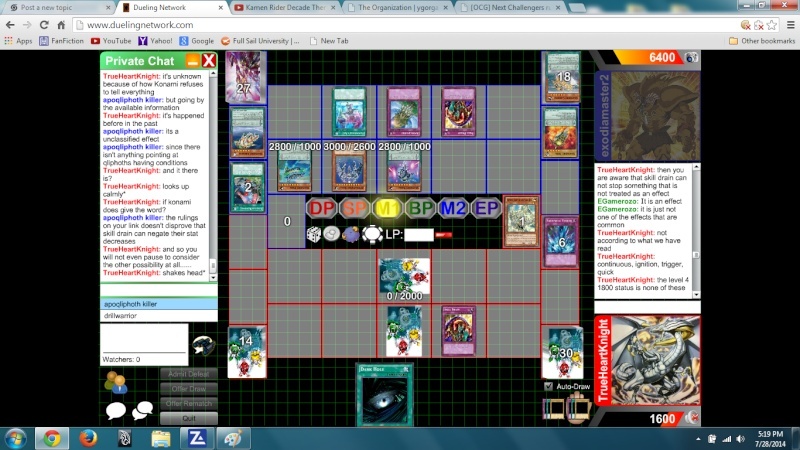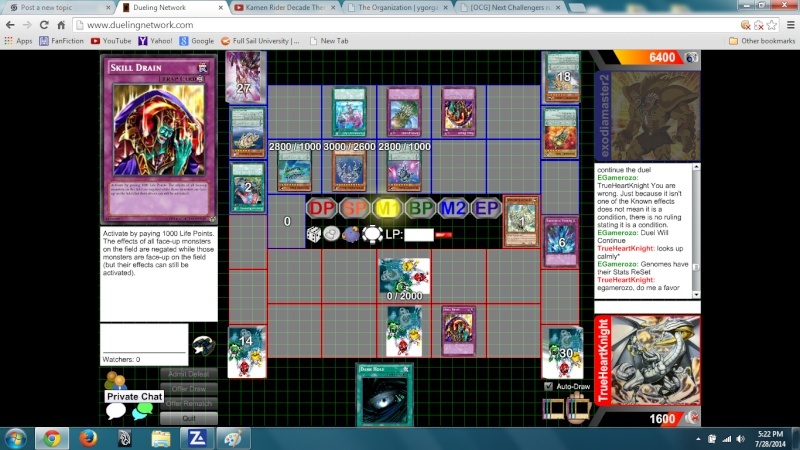 Last edited by TrueHeartKnight on Mon Jul 28, 2014 5:43 pm; edited 1 time in total
Dedicated Member




Posts

: 263


Reputation

: 15


Join date

: 2014-01-18


Age

: 28


Location

: New Jersey
Warning Level (Forum) :
Warning Level (Chat) :

Character Sheet
Name:
Passive/Aggressive:
Health Points:


(100/100)



I get this all the time when people skill drain my Archfiends thinking Emperor will stay reduced but its the same ruling as monsters like Beast King Barbarose. The effect of skill drain stops all but every type of cost. As such cards like Archfiend Emperor, Beast King, and Qlis would have their effect that reduce the attack and defense negated since that's not a cost nor it is technically apart of the summoning condition. The summoning condition would be not tributing. The effect then activates to make it lower. But since that can't happen under skill drain it simply fizzles the effect. This also applies to the ones on the field sadly since by technicality it is not apart of the summoning condition that it's lowered. Although cards like Shadow Imprisoning Mirror and Light Imprisoning Mirror simply doesn't stop the effect all together it would then still be reduced. (Not that this part matters but it's a good note for future reference.) Either way I'm about 95% sure that the effect to reduce would be negated.

_________________
Be true in love this you must do unless your love is false to you.
Mr. Diplomancy




Posts

: 283


Reputation

: 17


Join date

: 2013-10-21


Age

: 26


Location

: Fine, New York
Warning Level (Forum) :
Warning Level (Chat) :

Character Sheet
Name: Dragoon Distuba
Passive/Aggressive: Agressive
Health Points:


(100/100)



---
Permissions in this forum:
You
cannot
reply to topics in this forum