Who is online?
In total there is
1
user online :: 0 Registered, 0 Hidden and 1 Guest
None
Most users ever online was
38
on Fri Dec 27, 2013 1:41 pm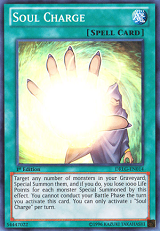 Target any number of monsters in your Graveyard; Special Summon them, and if you do, you lose 1000 Life Points for each monster Special Summoned by this effect. You cannot conduct your Battle Phase the turn you activate this card. You can only activate 1 "Soul Charge" per turn.
Soul Charge a card that just recently came out and is already implanted into most decks out there. Overall the card at first glance seems balanced. 1000 lifepoints per monster and no battle phase but heres the thing. It summons any number of monsters for 1000 per monster. This card can easily change the tide of any battle. If you're out of options and need a get out of jail free card this is your card since you can main deck THREE of them. This card opens it's user up for Synchro, xyz, and boss monster plays quite easily and can be used to just sack your opponent. With little effort on the part of the user. Sure they don't have a battle phase but what would that matter if they play this card and make Quasar, Number 11: Big Eye, Draccosack, or go for 3 of their boss monsters. This card just explodes the field and gives you significant advantage against your opponent.
Honestly I feel this card needs to be hit to at least 1 if not banned during next format. It's too strong and gives the user too much advantage over their opponent. What are your thoughts on this card?

_________________
Be true in love this you must do unless your love is false to you.
Mr. Diplomancy




Posts

: 283


Reputation

: 17


Join date

: 2013-10-21


Age

: 26


Location

: Fine, New York
Warning Level (Forum) :
Warning Level (Chat) :

Character Sheet
Name: Dragoon Distuba
Passive/Aggressive: Agressive
Health Points:


(100/100)



I came in thinking you were talking about Vanguard. Left knowing there is now something to replace my Monster Reborn.
Senior Member




Posts

: 106


Reputation

: 6


Join date

: 2014-01-11


Age

: 23


Location

: Weatherford, TX
Warning Level (Forum) :
Warning Level (Chat) :

Character Sheet
Name:
Passive/Aggressive:
Health Points:


(100/100)



---
Permissions in this forum:
You
cannot
reply to topics in this forum