Who is online?
In total there is
1
user online :: 0 Registered, 0 Hidden and 1 Guest
None
Most users ever online was
38
on Fri Dec 27, 2013 1:41 pm
Welcome to my first card discussion.  Here is the topic card: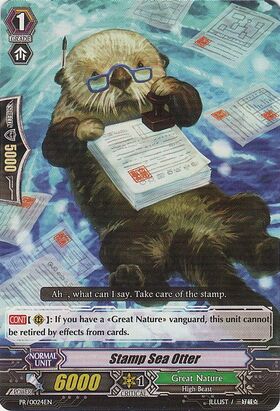 and here are my thoughts:
+Being a rearguard immortal, you can spam your Great Nature boosting skills to make this a +10k booster, and it'll not die at the endphase from the boosting.
+If your opponent uses the retiring skill of Amon, you can choose Stamp Sea Otter, and it'll not die.
+its a cute otter.
-I wish it wasn't a promo. Then it would be easier for me to get.
-It's non-retiring skill kinda defeats of purpose of Great Nature. You want your units to die so you can gain bonuses from them.
-concerning its skill, I think a 6k body is a little too strong.  A 4k or 5k body might be a little better, though.
-its a bad idea to put this in a front-row circle. Don't do that.
What are your thoughts about the card? Should you use it for Great Nature? Should you not use it? leave your opinions below.

Senior Member




Posts

: 106


Reputation

: 6


Join date

: 2014-01-11


Age

: 23


Location

: Weatherford, TX
Warning Level (Forum) :
Warning Level (Chat) :

Character Sheet
Name:
Passive/Aggressive:
Health Points:


(100/100)



I honestly dont know jack shit about great nature but that card on its own is a good concept since it can nullify some of the units that retires rear guards like "Blaster Blade" for example giving u more possible guarding options since you dont need to replace the "retired rear guard" anymore.
King Of Posts




Posts

: 445


Reputation

: 20


Join date

: 2013-11-07


Age

: 22


Location

: Italy
Warning Level (Forum) :
Warning Level (Chat) :

Character Sheet
Name: Ryuji Tetsuo
Passive/Aggressive: Passive
Health Points:


(100/100)



I'm not saying it's a bad skill, in fact it's a really good skill. My main complaint was that its in a clan that REQUIRES your units to be retired for draw power/damage unflipping.

on the flip side, Great Nature works by giving rearguards +4000 power, and then retiring them at the endphase. This card becomes a nice abuser of those boosts and wont be retired (ya know, as long as you're not stupid enough to put it in front row.)
Senior Member




Posts

: 106


Reputation

: 6


Join date

: 2014-01-11


Age

: 23


Location

: Weatherford, TX
Warning Level (Forum) :
Warning Level (Chat) :

Character Sheet
Name:
Passive/Aggressive:
Health Points:


(100/100)



---
Permissions in this forum:
You
cannot
reply to topics in this forum